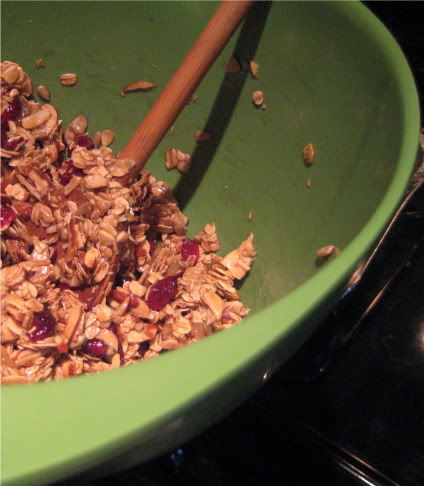 I've made both chewy and crunchy granola before, and love having it for breakfast. I wanted to make transportable bars rather than regular granola so that I can take them to work. I found this recipe at
The Cutting Edge of Ordinary
, but changed the recipe slightly.
2 cups old fashioned oatmeal
1 cup sliced almonds
3 tablespoons unsalted butter
2/3 cup honey

1/4 cup light brown sugar, lightly packed
1 1/2 teaspoons vanilla
1/4 teaspoon kosher salt
1/2 cup chopped, dried ginger
1/2 cup dried cranberries or raisins 
1/2 cup sunflower seeds
--Preheat oven to 350 degrees. Grease 9x13 pan. Toss nuts, seeds and oatmeal together and bake on pan for 10 mins, stirring often, until brown.
--Transfer mixture to large bowl
--In a saucepan, add butter, honey,brown sugar, vanilla and salt and bring to a boil for 1 min. The mixture will bubble up. Mix often and remove from heat.
--Add liquid mixture to large bowl.
--Add dried fruit and mix well, combing everything.
--Transfer to greased pan and push it down so that everything sticks together. Let cook for an hour and press down again, otherwise the granola will fall apart.
--Let cool completely, then cut into bars, wrap in waxed paper or plastic wrap, and enjoy!
A variation is to bake the granola for 20-30 min in a 300 degree oven. I skipped this step, fearing I would over-cook it, and the bars were great.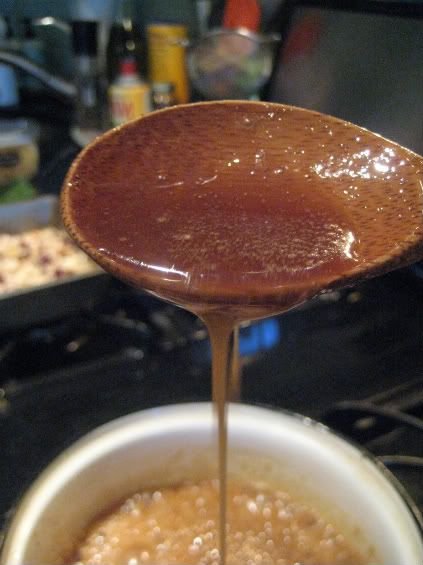 --J