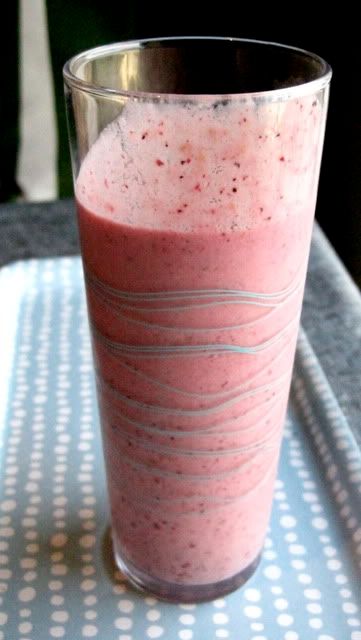 I love smoothies. I am not a huge breakfast smoothie person, because I generally like bigger breakfasts whenever possible, but smoothies for dinner and post-workouts are great. In the summer, when it is too hot to eat but I'm hungry, a smoothie always satisfies. I used to be an avid runner. I really don't run as much as I should, but I still get out there whenever possible. I recently joined the YMCA a few blocks away, and whenever I work out, I crave smoothies.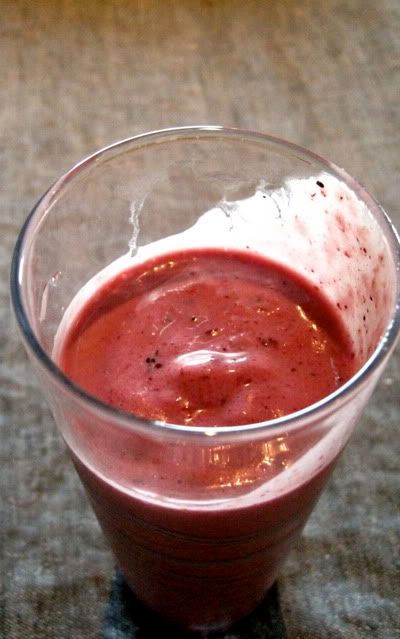 Smoothies are really easy to make, so you may be thinking, what is the point of this post? How hard can it be to make a smoothie? R told me that posting a smoothie recipe would be dumb. I disagree. There are many variations, and some tricks. My
sister
went through a smoothie kick one summer, and swore the key ingredient in smoothies is yogurt. Yogurt makes the smoothie creamier and healthier (all those live cultures) than just using ice cubes and milk. I don't usually use yogurt in mine, only because I seldom have soy yogurt around, but I would if I could.




For a basic berry smoothie, it is obviously best to use fresh, in-season berries that you picked with your own little hands at a farm, but that is not always what happens. In the winter, we buy bags of mixed organic frozen berries (eek!). I never use ice cubes in smoothies. The key for me is to allow the frozen fruit to act as the ice cube so that it is not watery and gross. I throw in about a 1/2 cup of berries (not too many, I hate when seeds get stuck in my teeth), about a cup or more of soy milk, frozen peaches, or other fruit, if you have it, a frozen banana, if you have it, a pinch of cinnamon, a sweetener (agave) if you must. Sometimes I add some liquid vitamins, like immune boost or something, which generally tastes gross plain. Blend together, serve.




My FAVORITE smoothie is a protein smoothie. My trick, which is pretty obvious, is to freeze a bunch of bananas. I peel them, break them in half, stick them in a baggie and freeze them. Seriously, it is like ice cream when you mix this all together, I am not kidding.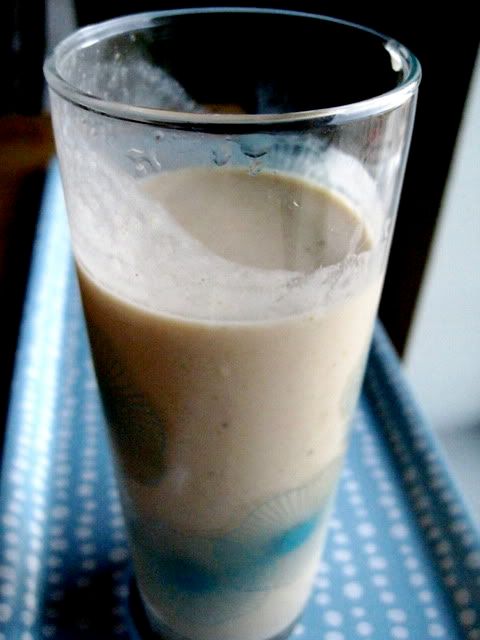 I add half or a whole frozen banana, a tablespoon plus a little more of organic peanut butter, about a cup of soy milk. Mix it together until it is creamy. You can add more soy milk if you prefer a smoother smoothie, but sometimes I like mine thick because it really does taste like ice cream. mmm. divinity.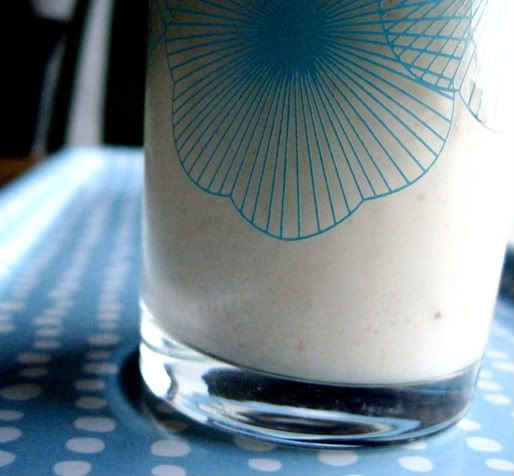 --J