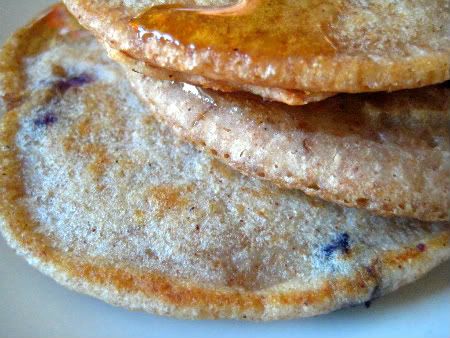 I love breakfast, la la love it. I have been surveying the food blogosphere recently and I came across a few blogs that were very inspiring. I stumbled upon
Simply Breakfast
last week and have been enamored ever since. Also, these bad mamajamas stole my heart with one glance at
101 cookbooks

In my opinion, breakfast is a two way street. You can have have a savory breakfast or a sweet breakfast dish, or you can find your culinary soulmate who just happens to like sweet dishes over savory and you favor savory so satisfying that voice that chimes in after 5 bites of a salty fritatta is easy breezy. "Honey, can I have a bite of your pancakes?" Sure thing. One bite turns into 3 or 4 and then you're stuffed! I always have been a savory person myself favoring eggs florentine, and quiche over french toast or pancakes. Sometimes I get stuck though. Take the bourbon french toast at Tiny Cup in Bed Stuy, it is delicious BUT... they have a smoked salmon and bagel platter fully equipped with capers and onions. So here I stand at the crossroads of breakfast. Ill start my stream of breakfast food posts with pancakes. PANCAKES! PANCAKES!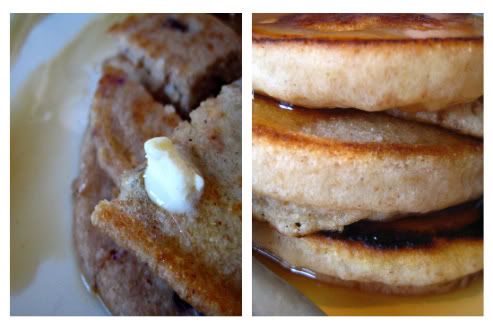 Here over at O.M.G FOOD, J is a vegan baby and I am just your run of the mill herbivore who eats fish, which makes me a pesca-vegetarian? Anyway, this pancake recipe is one that evokes feelings of sunny skies and warm days that kiss your cheeks. The weather outside right now is anything but that. We are stuck in NYC Blizorama 2010. There is about 6 inches on the ground already and this is just the beginning. These pancakes have orange zest in them which brightens things up. This is a vegan pancake recipe but if you wish to use eggs you can use them where it calls for egg replacer. If you do happen to use eggs, please get them from a reputable source like
Flying Pigs Farm
from Shushan, NY.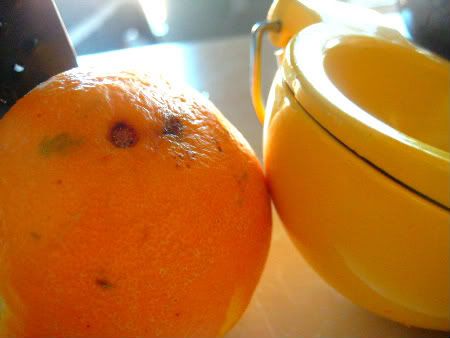 Let's get cookin, literally. This is a recipe for vegan orange blueberry pancakes. Bon Appetit!
Orange

Blueberry

Pancakes
Dry Ingredients
2 cups whole wheat flour
1 cup unbleached flour
1/4 brown rice flour
Egg replacer (for 1 egg)
1 tsp baking powder
Pinch of salt
Pinch of cinnamon
Wet Ingredients
1 1/2 cups of soy milk
1 tbs of maple syrup
1/4 cup coconut oil
1 navel orange for 1/4 of juice and about 1 tbs of zest
1/2 cup thawed organic wild maine blueberries (we get them at Trader Joes)
Methodology
Mix all the dry ingredients together in a mixing bowl. Sifting the flours is an ideal step but I don't have a sifter so I always omit this step. It just sounds fancy to say "sift". Ha. Next, zest your navel orange with a microplane (yes, I own one of those) and set aside the zest. Squeeze the orange in a citrus press to obtain around 1/2 cup of juice and set aside. Make sure the coconut oil has reached room temperature and is in it's liquid state. Mix all your wet ingredients together with the omission of the orange juice, zest, and blueberries. SLOWLY add the wet ingredients to the dry ingredients, and stir. I say add slowly because you don't want lumps in your batter and we over at O.M.G have found this method to tickle our fancy. Once you have achieved a nice, even and non-lumpy batter add the zest, juice and the blueberries. Heat up a skillet (preferably a cast iron pan) with fat of choice; butter, light olive oil, or coconut oil works well. Coat the pan with the oil and heat the pan on a med-high heat. Let the batter sit while your pan heats up. Next, spoon in 1/2 cup of batter into the pan. You can usually get away with making 3 pancakes at a time or if you have small mouths to feed, make silver dollar size pancakes. Keep an eye on these fiesty little cakes with their seams bursting with berries, once they start to form bubbles, FLIP them. The pancakes should be a light brown color, not burnt and not undercooked. Nobody likes raw batter in the middle. Once all your batter has been transformed into magic breakfast delights, sit down and enjoy with some maple syrup to accompany them (the real stuff, please give Mrs. Butterworth a swift kick in the ass). Come to think of it, if you are reading this blog you have never owned Mrs. Butterworth, or here's to high hopes.